This week's episode is sure to bring you a few moments of peace and stillness, courtesy of Springfield Dominican Sister Karen Freund. Sister Karen has years of experience accompanying men and women on their spiritual journeys.
Today, she will share three uncomplicated ways to enrich your experience of Advent. Things you can do now, and things you can build into your daily schedule that may strengthen you spiritually during this four-week season of preparation for Christmas.
Sister Karen's Three Tips
Make time to listen deeply to God in prayer.
Act on the inspiration God gives you in prayer.
Stand up for the truth.
The readings from Scripture the church uses during the Advent Season are rich sources for prayer. You can find them here or sign up here to have them sent to you daily by email.
You can contact Sister Karen, or others of our sisters who are spiritual directors here.
Mary, Mother of God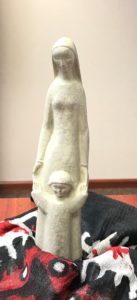 Mary, the Mother of Jesus, the mother of God, is a wonderful companion for Advent.
If you enjoy the visual arts, you might enjoy this online exhibition, A Global Icon: Mary in Context on the website of the National Museum of Women in the Arts, Washington, DC.
Women who would like to join a circle of friends who want to deepen their prayer lives and sense of community can check out Cor Unum House, a Springfield Dominican outreach for young adult women.
Reflection
Ponder the 14th century Dominican mystic, Meister Eckhart wo said: "We are all called to be mothers of God for God is always needing to be born." How will you give birth to God this Advent and Christmas season?